Stearns Graduate Student Prize
ESEB & the Journal of Evolutionary Biology (JEB) editorial team award an annual prize for the best paper by a graduate student published in the journal in a calendar year. The prize is named after Stephen Stearns, who did so much to establish both JEB (including serving as first Editor) & ESEB (article).
The Stearns Graduate Student Prize is aimed at recognising outstanding graduate research, so the paper should primarily arise from a significant piece of work which was included in a Masters or PhD thesis. The prize will be conferred at the nearest ESEB Congress and announced in the journal and online.
The award comes with an invitation to the ESEB Congress (travel expenses and registration fee covered), a presentation in one of the congress symposia, and a cash prize of 250 €. We expect the corresponding or senior (first) author to be the graduate student primarily responsible for the research and paper writing, and the supervisor will be asked to confirm this for shortlisted papers. We expect papers to be submitted at the latest within five years of starting a PhD project. When papers are accepted we will ask if the paper is eligible to be considered for the award, and that all the authors agree to this. The prize will be selected by the Deciding Editors of the journal, and we expect the next award to be for a paper published in 2019.
Winner 2019
JEB & ESEB are delighted to announce that the winner of the 2019 Stearns Prize for a paper published in JEB by a graduate student is Thomas Keaney, for his paper "Mother's curse and indirect genetic effects: do males matter to mitochondrial genome evolution?" (https://doi.org/10.1111/jeb.13561). Tom will present some of his work at next year's ESEB congress in Prague, Czech Republic.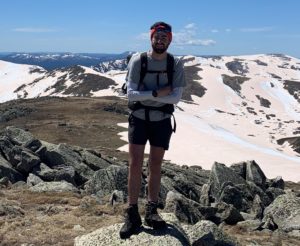 Tom finished his Masters of Bioscience at the University of Melbourne in 2018, under the supervision of Luke Holman and Theresa Jones. His thesis focused on mitochondrial genetic variation, and how this can potentially be shaped by kin selection acting on males, whose mitochondrial DNA were traditionally considered to be invisible to selection. In this paper he, along with his coauthors, demonstrate that mitochondria in male Drosophila melanogaster have an indirect genetic effect on female fitness during mating interactions. This, in principle, allows mitochondrial genes to respond to selection on males when there is relatedness between mating pairs. Tom is now in the first year of his PhD, continuing his work with Luke Holman and Theresa Jones. He is now exploring intragenomic conflict, sexual selection and their effects on population viability. Outside of his PhD, Tom is a keen bushwalker and sports fan.
Runners-up were Nadia S. Sloan and Daniel Shane Wright.
---
Previous Winners
2018 – James Santangelo
"Herbivores and plant defenses affect selection on plant reproductive traits more strongly than pollinators" (https://doi.org/10.1111/jeb.13392).
2018 – Runners-up were Eva Troianou, Peter Moran, Urtzi Enriquez-Urzelai, Joshua Alpern, and Casper van der Kooi.
2017 – Jack Colicchio
"Transgenerational Effects Alter Plant Defense and Resistance in Nature" (https://doi.org/10.1111/jeb.13042)
2017 – Runners-up were Keely Brown, Zacharia Grochau-Wright, Ryosuke Iritani, Kim Kirchhoff , and Erin Morrison.
2016 – Amaranta Fontcuberta
"Extreme genetic diversity in asexual grass thrips populations" (https://doi.org/10.1111/jeb.12843)
2016 – Runners-up were Matt Wilkins and Karl Grieshop.
2015 – James Lichtenstein
"Similar patterns of frequency-dependent selection on animal personalities emerge in three species of social spiders" (https://doi.org/10.1111/jeb.12651)
2015 – Runners-up were Arthur Porto, Evan Hersh, and Damien Farine.
2014 – Ellie Harrison
"Sex drives intracellular conflict in yeast" (DOI: 10.1111/jeb.12408).