ESEB Student Representatives
2021 – 2023
Falk Nagies

Heinrich Heine University, Düsseldorf, DE
Falk is a 2nd year PhD student at the Heinrich Heine University Düsseldorf. Although he is fascinated by everything related to evolutionary biology, his studies focus on the patterns of horizontal gene transfer in prokaryotes. Speciation and how life´s big groups evolved are his special interests.
Contact: egsr@eseb.org
2020 – 2022
Ronan O'Sullivan
University College Cork, IE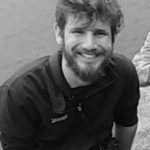 Ronan is a 4th year PhD researcher based at the School of Biological, Earth and Environmental Sciences in University College Cork, Ireland. He uses quantitative genetics and statistical modelling to determine how genetics and ecology interact in free-living populations of salmonids. He is particularly interested in applying quantitative genetics to data-poor systems to understand the limits of such theoretical application.
Contact: egsr@eseb.org
Past Student Representatives
2018 – 2020 Ben Auxier, Wageningen University, NL
2018 – 2019 Katarina Matvijev, Université libre de Bruxelles, BE