ESEB Student Representatives
2020 – 2021
Ronan O'Sullivan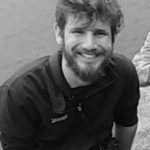 Ronan is a 4th year PhD researcher based at the School of Biological, Earth and Environmental Sciences in University College Cork, Ireland. He uses quantitative genetics and statistical modelling to determine how genetics and ecology interact in free-living populations of salmonids. He is particularly interested in applying quantitative genetics to data-poor systems to understand the limits of such theoretical application.
Contact:
ronan.j.osullivan@umail.ucc.ie

2018 – 2020
Ben Auxier
Ben is a first year PhD student at Wageningen University studying the genetic basis of how fungal individuals are defined, and the evolutionary consequences when these definitions break down. Ben is originally from Vancouver, Canada, and lives in the Netherlands with his wife and two cats.
Contact
ben.auxier@wur.nl
2018 – 2019
Katarina Matvijev, Université libre de Bruxelles, Belgium